Virtual Food Tours
Travel virtually to the Basque Country and get the stories behind what you taste.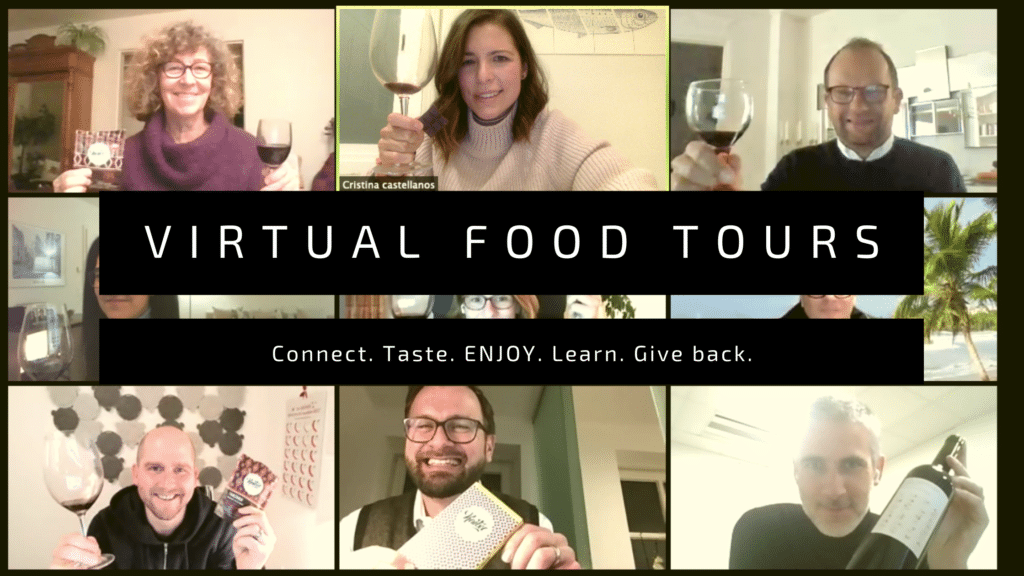 VIRTUAL FOOD TOURS YOU CAN BOOK AND ENJOY 👇
⭐ BASQUE CHOCOLATE & WINE TASTING
 
⭐ BASQUE CIDER & CHOCOLATE TASTING
 
⭐ BASQUE BEER & CHOCOLATE TASTING
 
⭐ PINTXO MAKING & WINE TASTING
 
⭐ BASQUE COCKTAIL CLASS

⭐ SWISS CHOCOLATE & WINE TASTING (FOR SWITZERLAND)

⭐ NORDIC CHOCOLATE TASTING (FOR NORWAY & SCANDINAVIA)
How these virtual tastings were born
Last year (yes the dreaded 2020) something wonderful happened: Me and my partner got the opportunity to go to Norway and meet the most amazing chocolate-preneurs in the southern fiords.
My partner who's a chocolate maker (I know, I'm really lucky and this is also why my hips don't lie 😉 has been working with them since last July creating the most delicious creations.
I've taken advantage of my certification as a chocolate taster, yes it's a real thing, and created the first Basque Chocolate & Wine Virtual Experience, and it has been fantastic!
With all the virtual tasters, we managed to donate 120 meals through @zaporeak_proiektua last year! The Zaporeak kitchen project have worked so hard to keep preparing meals for refugees in Lesbos, and as you probably know last year was particularly hard for them. Not only because of the pandemic, but also because of the devastating fire in the camp. These moments help put things into perspective.
I'm still motivated to combine the things I'm passionate about: food, wine, chocolate, meeting people, my love for the Basque Country, basically anything delicious, and share this with you!
And in doing so, join forces with inspiring organizations like Zaporeak, and support their work. To take action through our choices, and help create a snowball effect of a positive social impact.
So, in my excitement of sharing what I'd created, this whole new world of import and export opened itself to me. Ay…and what a world, amigos!
Basically, we got most of Europe covered, if you're curious if we can get to you, just send me a message and we can find out.
We can't ship wine outside of Europe 🙁 but, I can get you chocolate throughout most of North and South America, parts of Asia, Africa and Australia, through my third party suppliers, some patience and when in stock.
From these logistics a couple new tastings were born:
Not Basque, but equally wonderful!
⭐ SWISS CHOCOLATE & WINE TASTING with an incredible Swiss chocolate maker, who helps me ship throughout Switzerland
⭐ NORDIC CHOCOLATE TASTING with mind blowing chocolates made in the fjords, from where they help me ship throughout Norway and Scandinavia
Chocolate disclaimer
The chocolates I use in my tastings are NOT your regular, you can find in the supermarket, mass produced, ultra-commercial (which means lower quality, dodgy traceability), super sweet, not really a chocolate, more like a candy, kind-of-a chocolate. These chocolates are fine if you like them, (not judging, although maybe just un poquito.) There's obviously a market for those, but, I'm not going to help you get your hands on something you can easily find in any old store.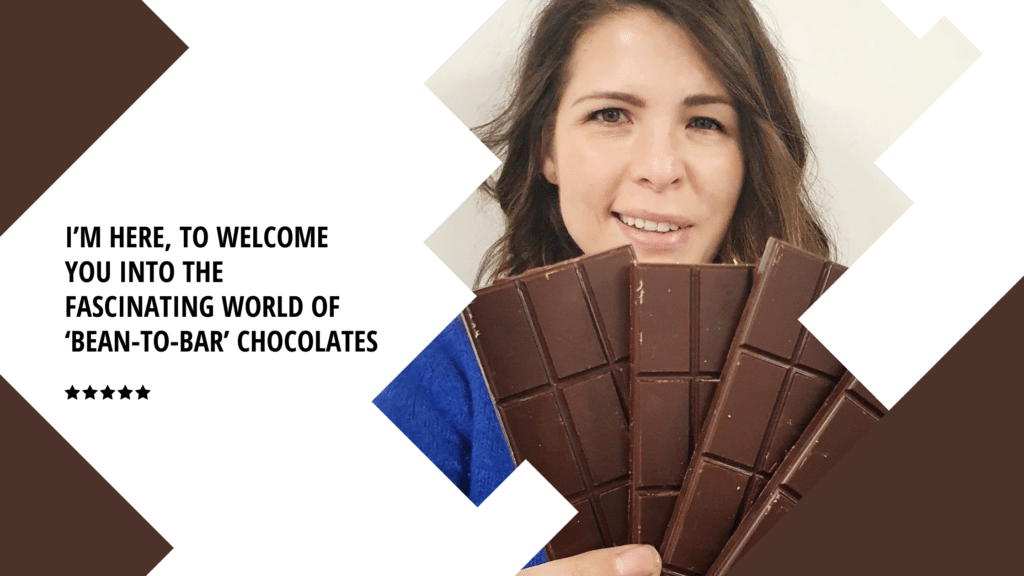 I'm here, to welcome YOU into the fascinating world of 'bean-to-bar' chocolates and introduce you to the makers behind these delicious creations. Who are these crazy people who devote their lives to creating the most amazing chocolate? Who spend their days smelling like fermented cacao beans (and believe you me, it ain't a good smell!) Who source their cacao from co-ops, farmers and other crazy scientists. I'm telling you these chocolate makers are, obsessed people who treat cacao beans like the precious gold the Aztecs believed it to be, and it's fascinating!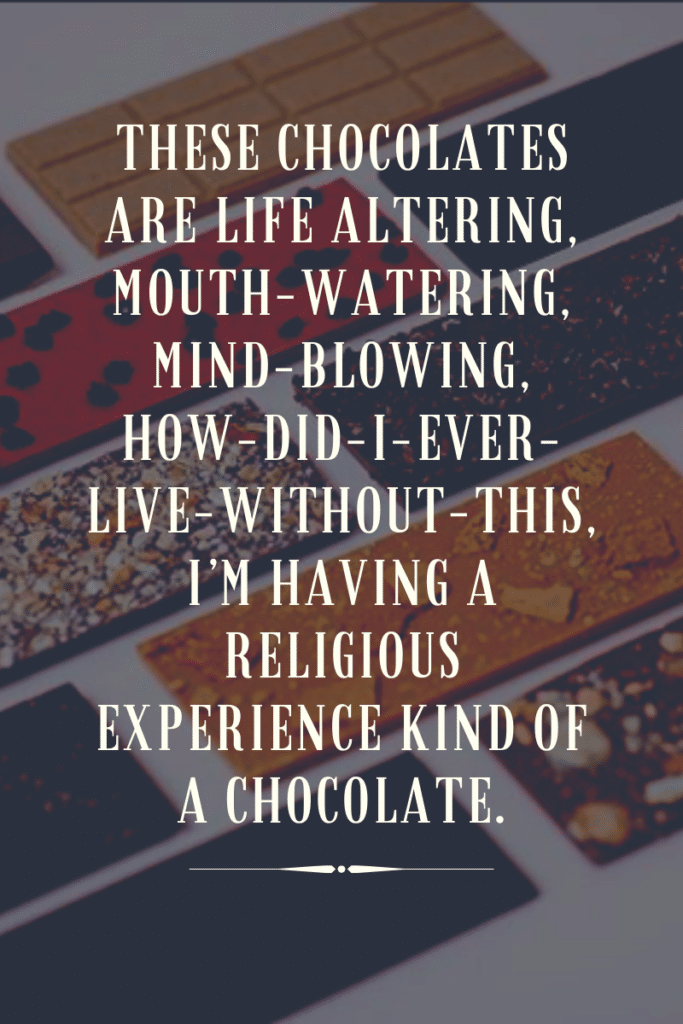 These chocolates are life altering, mouth-watering, mind-blowing, how-did-I-ever-live-without-this, I'm having a religious experience kind of a chocolate.
These tastings are great for:
Groups of friends who want to virtually gather, try something delicious and learn something new
Companies, for you and your colleagues. To incentivise your team, reward them for their hard work and enjoy a virtual chocolate break
Families. I connect with my family every Sunday, we're in 4 different countries and if you add chocolate to the mix it makes the gathering sweeter.
Anyone who deserve a gift. These tastings are one (or several) steps above the regular chocolate box. The ideal gift that combines chocolate love + happiness (you literally release the happy hormone) + you acquire chocolate knowledge that will change your perspective forever. Forever!
If you'd like to do a virtual food tour send me a message and we will make it happen!