This tour is all about desserts. Discover the city's history through its pastries, chocolate, cheese and wine!
If you travel for food, have a sweet tooth and want a sustainable future, this is for you! A tour through San Sebastian's sweeter side.
A dessert Lovers' Dream Tour
Explore 3 different neighbourhoods as you eat your way through San Sebastian's iconic pastry shops. Visit the oldest bakery in town and sip delicious morning coffee. You'll have seven delicious stops, tasting ten local specialties, 2 with a wine pairing!
This experience is about culture, history and desserts. It's about you getting to know the stories of the people behind what you taste and, give back to the city! If you like pastries and desserts trust us, THIS will be your happy place.
Learn about local history and culture through the city's patisseries, cafés, specialty shops and bars. Discover the traditions behind each taste!
Your tastings include freshly-brewed coffee, a traditional Basque cake, a caramel created in the French Basque Country, a local favourite created in the oldest bakery in town, a cider house dessert, a modern dessert, and a classic favourite paired with wine.
This tour is linked to Zaporeak, a local association that provides refugees with wholesome meals in camps currently in Greece.
With every food tour you purchase, we help a person in need by donating a meal to Zaporeak. You eat one, you feed one.
DETAILS
INCLUDES
DIETARY
HIGHLIGHTS
FAQ
MAP
DETAILS
Duration:

 3 hours

Price: 

Adults 18 and over €109
Teenagers 14-17 €99


Children under 13 €89

Starting time:

 

09:30 AM

 

Private tours are available

 




Availability: 

From Monday to Sunday
INCLUDES
DIETARY
HIGHLIGHTS
FAQ
MAP
This experience is like an edible story where you'll learn about history and culture through what you taste- and it's oh so sweet!
what our clients say about us
My husband, teenage son and I recently had the great pleasure of joining Cristina on her Just Desserts tour in San Sebastian. It was the perfect way to explore the city and satisfy our love of sweets. Cristina took us to all sorts of delicious places: a great coffee shop that takes their roasting very seriously; several amazing bakeries where we got to sample a variety of Gateau Basques, handmade caramels, mouchou, pantxineta, and a variety of superb pastries; a delightful cheese shop where we tried tasty local cheeses, wine; and a pintxo bar where we enjoyed Cava and torrija with vanilla ice cream (like the best French toast ever!)
Georgina R
Cristina has a lot of knowledge not only about the food, but also about San Sebastián. It's obvious that she really loves what she's doing and she also loves to share with others. I enjoyed the evening very much.
Simon M.
While all of the food we got to try was fantastic, the highlight of the tour was spending time and learning from Cristina. Her enthusiasm for local food is infectious! We loved how she shared stories about Basque culture and history in addition to all of her knowledge about Basque food. This tour was the second one we did with Cristina in one week. Tours with Cristina were definitely one of the highlights of our trip to Basque Country. For every tour booked, she donates a meal to someone in need. If you have the opportunity to take one of her Eat One Feed One tours, do it. You'll have so much fun and go home full and happy! We got lots of tips on food, San Sebastian in general and the surrounding area. Had a really great time!
Erin S.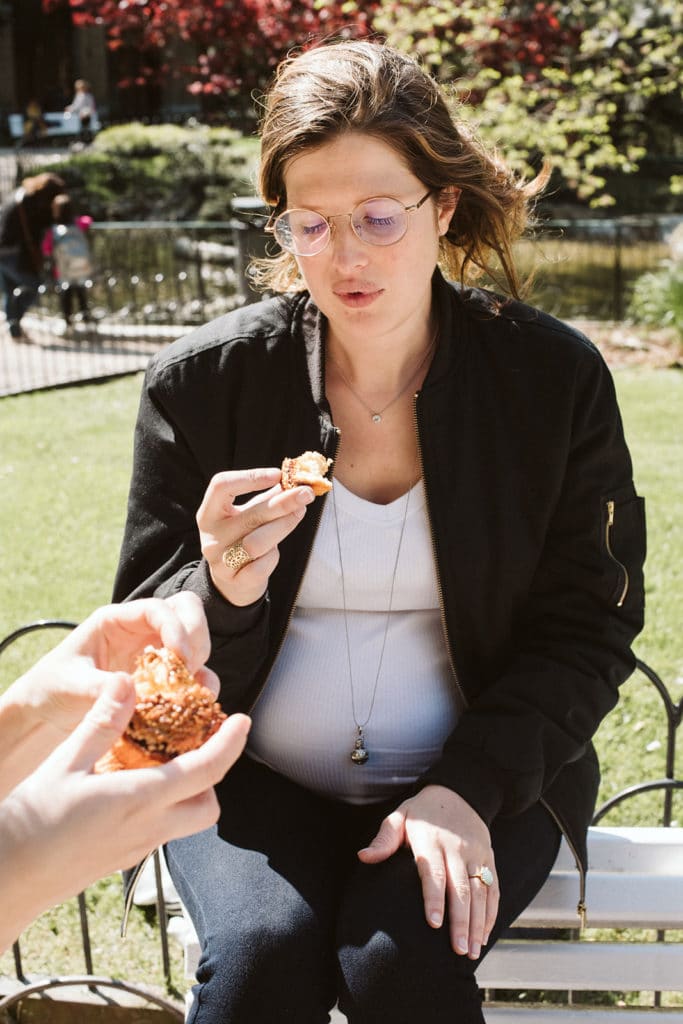 "I'm not a vegetarian! I'm a dessertarian!" ― Bill Watterson