what our Clients say about us
read Testimonials on the first social impact food tours & online experiences in San Sebastian
"Loved it! I recommend it 100%, Cristina was charming and a great guide."
If you like food this is for you!
¨If you like food, and are interested in produce and where your food comes from, the farm tour is a great! The guide was both very knowledgeable, helpful and kind. In addition to the tour itself, we got lots of tips on food, San Sebastian in general and the surrounding area. Had a really great time!¨
talk about passion for food!
¨Thank you for being such an amazing guide Cristina! Your knowledge and passion have showed us how much history, culture and fun there is around pintxos. I'm delighted that I booked this tour at the beginning of our trip, all your tips were amazing and I 'll definitely recommend it. Thank you!¨
¨The Pintxo scene in San Sebastian can be a bit intimidating and Cristina was crucial in helping us navigate and get the best of what the bars have to offer! She was friendly, informative and easygoing. I strongly recommend spending a few hours with this lovely person!¨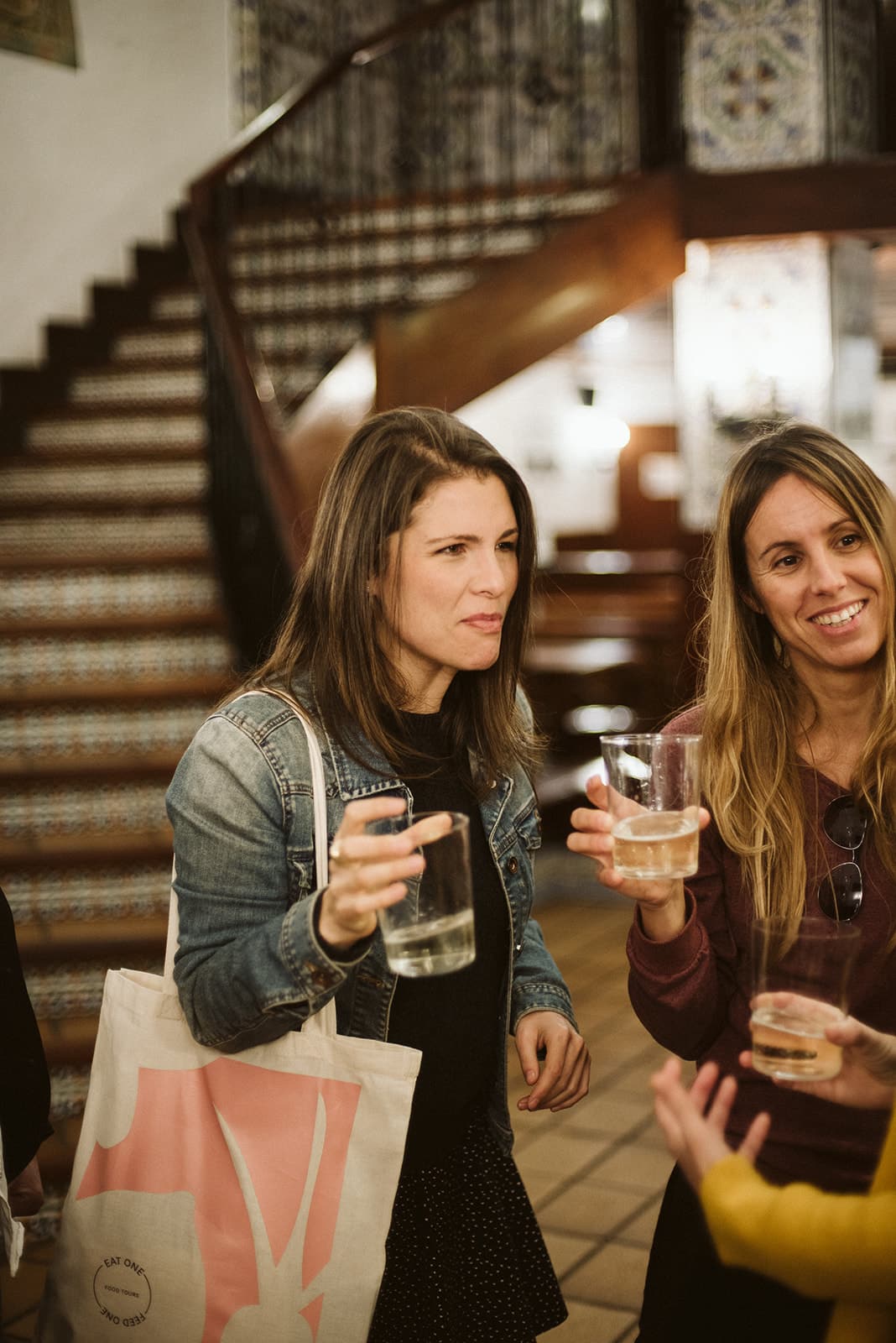 ¨Cristina was a wonderful host! She had a fantastic understanding of her subject matter, took us to some great little spots and took care of everything. We could not have asked for a better day!¨
"A must do tour to discover the food scene of the city, feel like a local and support a great cause!"
"Don't hesitate-Book it! This should be done on your first day in San Sebastian."
"Amazing and genuine food tour, it combined Cristina's love for food, storytelling and insights into basque culture."
an ideal place & food scene
for a family Holiday
"My husband, 2 children and I had a wonderful evening with Cristina. We thoroughly enjoyed her company, pintxos recommendations and great insights into the past and present day San Sebastian. This lady knows her stuff, is a real foodie and kept us entertained all evening, a real people person. Her follow-up was also excellent with all the places we'd visited and other recommendations!"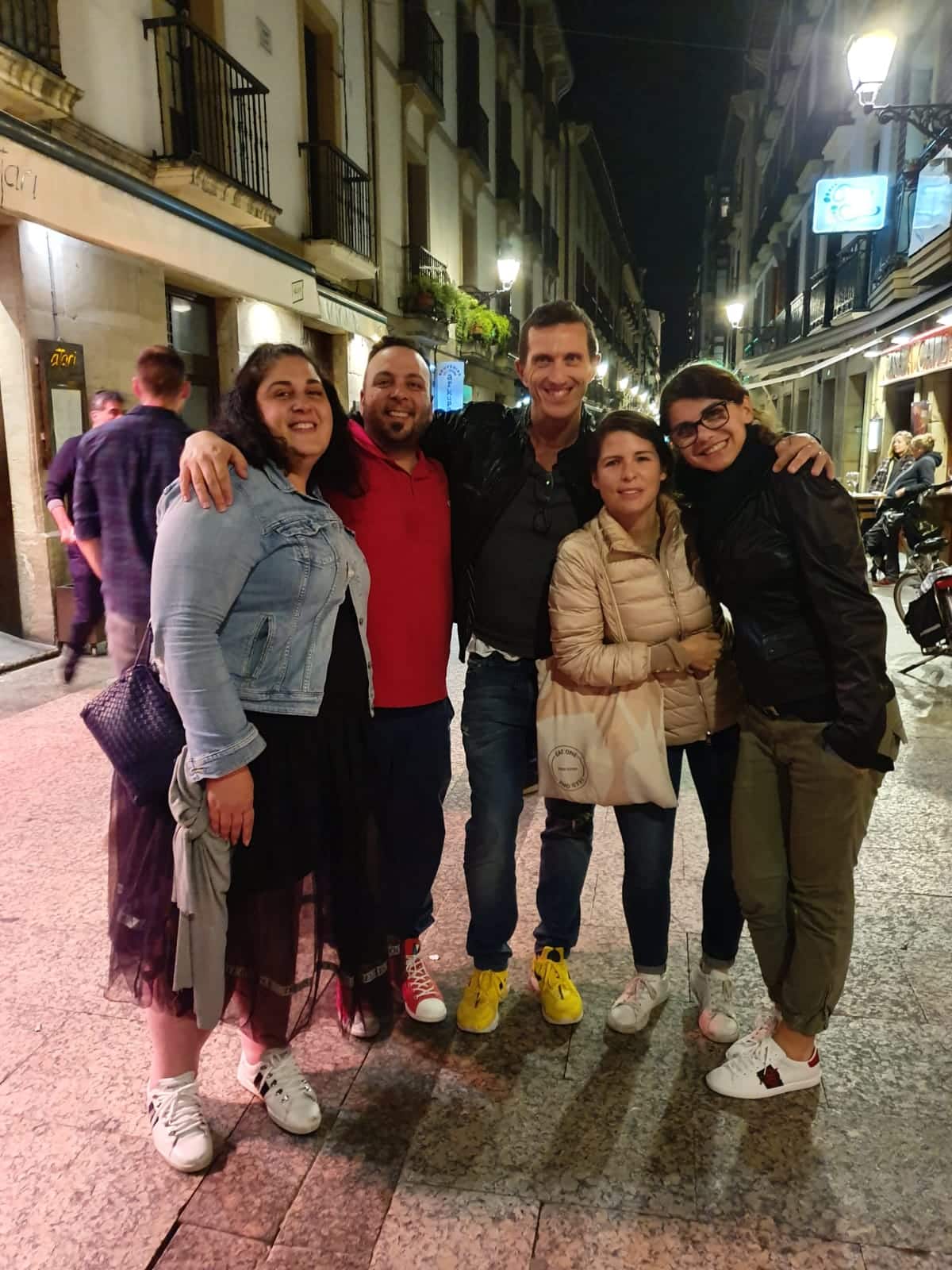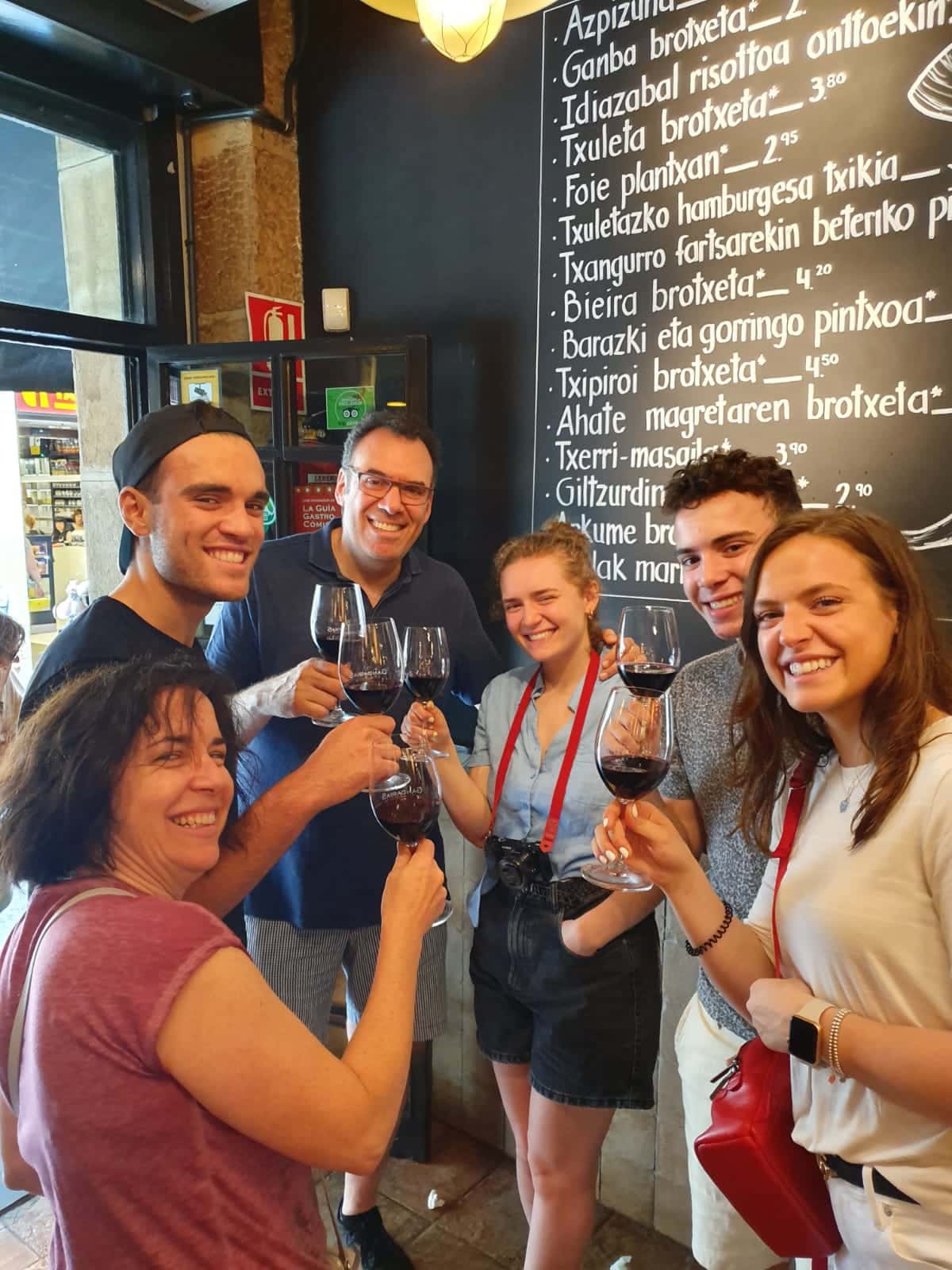 "If you're planning to visit San Sebastian (even if just for a short-day trip), Eat One Feed One is an absolute must!
Before meeting Cristina we were ordering the wrong food (falling for common tourist traps without even realizing) and drinking cider the wrong way. Cristina took us to different Pintxo bars where she introduced us to AMAZING local food and beverages, tailoring our tour based on personal preferences/allergies. Throughout our culinary route we go to discover San Sebastian's fascinating history and culture in a unique and truly refreshing way. To top all of the above, for every person taking the tour a meal is donated to people in need! If we ever get to be back in San Sebastian would definitely book again!"
Excellent (and delicious) option for team building over Zoom!
Cristina put together a fascinating and incredibly delicious wine and chocolate tasting for my colleagues and I. I had been looking for something to really cheer people up and bring our team together whilst we Worked From Home and the EatOneFeedOne team did a phenomenal job of engaging everyone even over Zoom. Really can't thank you enough - what a special experience.
Best online chocolate & wine experiences
Travel virtually with your family, friends and work colleagues through chocolate and wine, beer, cider or custom designed virtual cooking classes.
¨Cristina provided a wonderful evening of cider, chocolate and storytelling for us during Covid lockdown including sending the tasting items to the UK. It was the next best thing to being in San Sebastian and has changed my chocolate purchasing habits.¨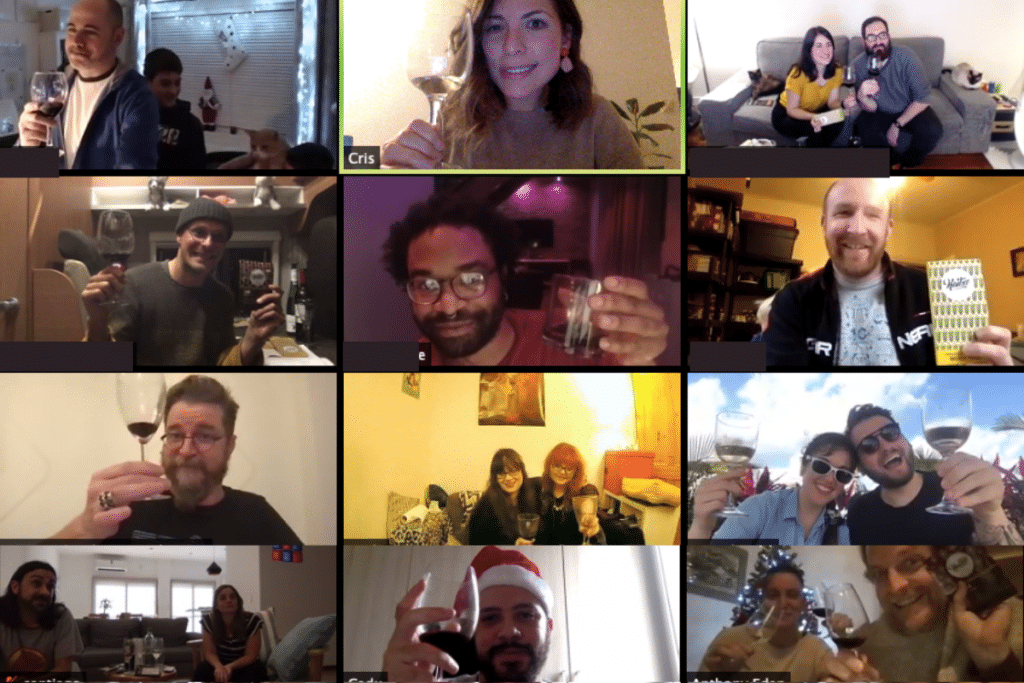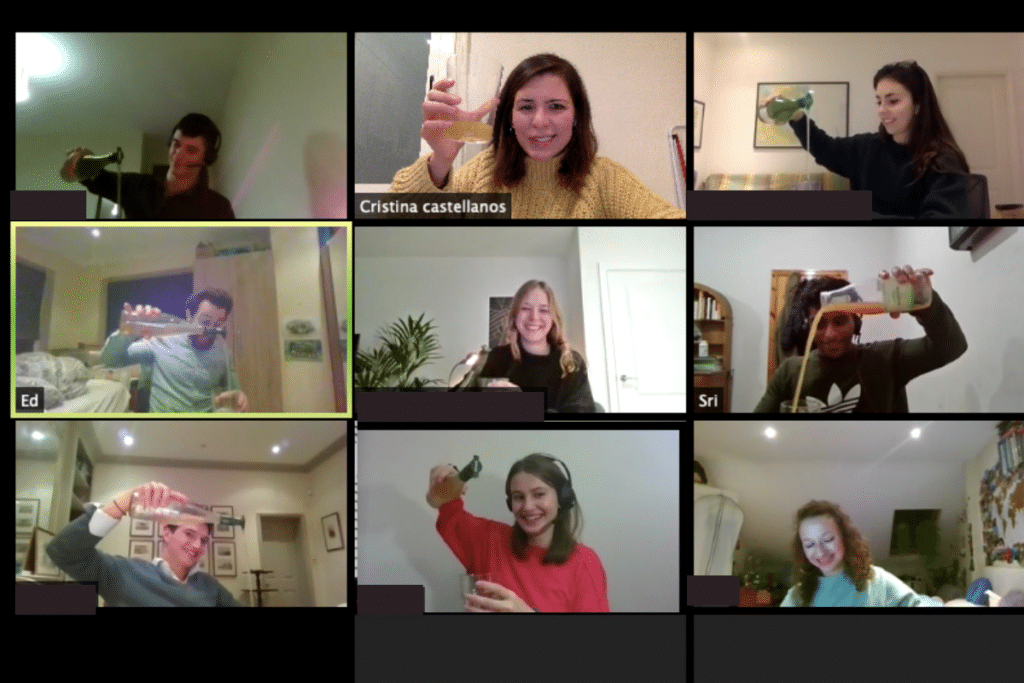 "A really fun and informative experience. Cristina is a great host and takes pride in explaining the history and techniques involved in the chocolate, wine and cider making processes. The products were delicious and the experience opened my eyes to a region of Spain and its products about which I knew very little. Would thoroughly recommend this as a fun foodie experience that gives something back at the same time."
" Would thoroughly recommend this as a fun online foodie experience that gives something back at the same time."​
¨Who knew online chocolate and wine tastings could be so fun?
"We had a christmas virtual chocolate & wine party with our team all over the world and it was fantastic!"
My Favourite review: 
¨Best way to eat your way through San Sebastian! Cristina was the most incredible host we could have ever asked for. We were able to schedule with her only the day the before, and she had GREAT communication, allowing us to message back and forth before we actually booked (we wanted to clarify that it was okay to have children on the tour with us – which she said was fine, even with a 4 year old and 1 year old!) We met Cristina for a private tour to, she found us immediately, introduced herself, and we could instantly see her passion for food, community, and friendship (kuadrillas)! She made us feel as though we had been friends for years! Her history and experience as a chef was immediately obvious as she had extensive knowledge about the history, preparation, and ingredients of the food we ate. She took us to the BEST pintxo places in San Sebastian, shared the best drinks with us, and even ordered special drinks and items for our 4-year-old, and held her hand walking down the street! We saw about 8 people during our tour that knew her, hugged her, and exclaimed that she was the best tour guide in the area (which we already knew by this point)! She was incredibly patient with our children, letting us take our time from place to place, and encouraging the children to try the new foods and drinks. She taught us so much about the Spanish and Basque food, culture, and language.
We all agreed that it was the highlight of our whole trip to Spain! She was kind enough to give us a summary of everywhere we went, everything we ate, and everything we drank! So we went out the next night with a few of her recommendations, and realized that the VERY BEST way to eat your way through San Sebastian is WITH HER! We are so grateful to have experienced her knowledge and passion for food and people. We would consider returning to San Sebastian just to do another food tour with her! Thank you Cristina!
Grace B.¨
Read more reviews on Trip Advisor
Find out more about our culinary experiences
Online Food & Drink Experiences
Travel virtually to the Basque Country through chocolate and wine. You can also travel to Switzerland, Norway and the UK. Discover unique products, learn how to taste chocolate, wine, cider, beer or cook a creamy cheesecake. Ideal for team buildings, family and friends gatherings. For every box sold we donate a meal.
Food Tours in San Sebastian
Travel to San Sebastian the best way possible, through food! Discover different neighbourhoods, understand the unique culture and history. Feel confident navigating the city's culinary scene and learn why there's so many Michelin stars in this corner of the world! For every person who joins a tour we donate a meal.