Online Food & Drink Experiences
Food Tours in san sebastian & online tastings
Travel to San Sebastian through what you taste. For every person that joins a tour we donate a meal to a person in need.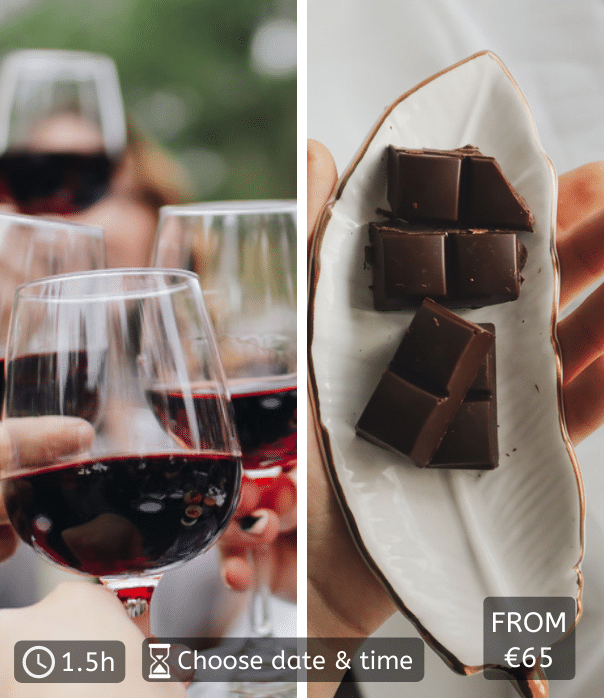 Travel virtually through chocolate & wine!
• Enjoy 2 different bottles of local Basque wines paired with award-winning local chocolates during an online tasting incorporating Basque flavours and history.
• Taste delicious chocolates and learn what bean to bar chocolates are, how to read Spanish wine labels, how to taste each product and the astonishing similarities between them!
• For every tasting box sold, we donate a meal through the Zaporeak kitchen association.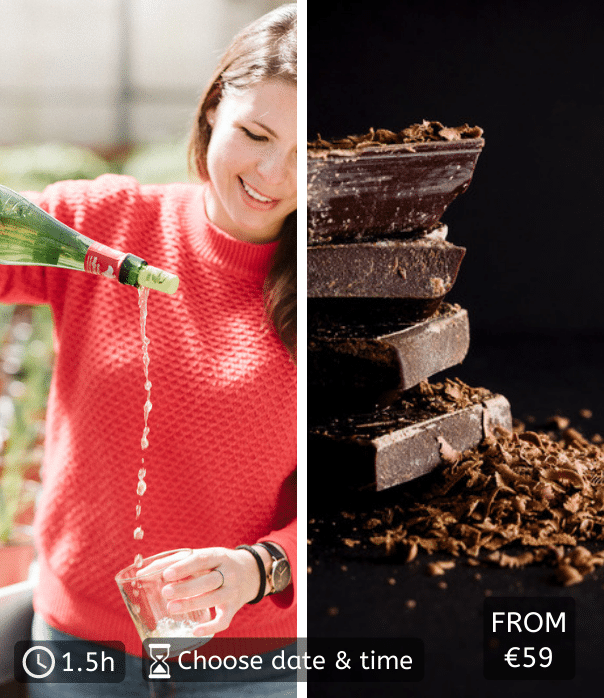 Travel through cider, the most ancient drink in the Basque Country & chocolate! 
• Pair and taste 2 different ciders with chocolate made by local chocolate makers.
• Get the stories behind what you taste and learn how to serve and drink Basque cider, there's an art to it! Taste chocolate like a pro and enjoy a unique and delicious combination.
• For every tasting box sold, we donate a meal through the Zaporeak kitchen association.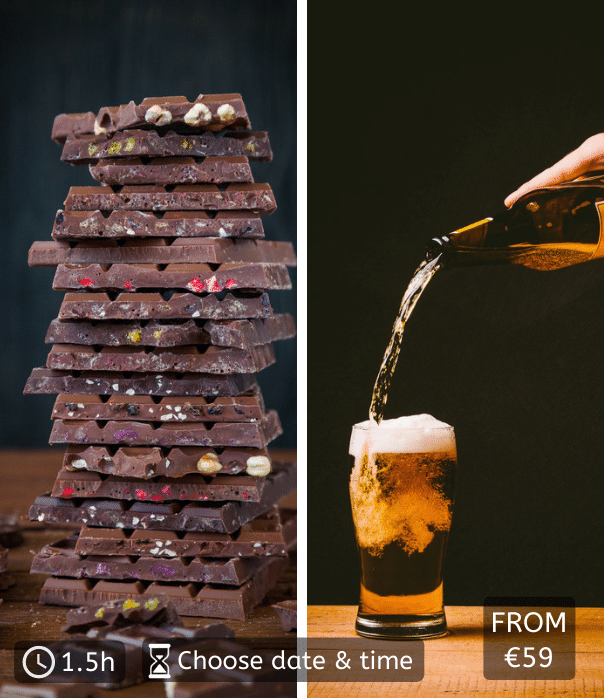 Travel virtually through chocolate & beer!
The Basque Country has it's beer going on!
• Learn how to taste beer like a pro, really savour it and pair three beers with delicious award winning Basque chocolates.
• Travel through the stories you get and join the not-So-Secret Love affair between beer and chocolate!
• For every tasting box sold, we donate a meal through the Zaporeak kitchen association.
book an Online chocolate & wine/beer/cider Tasting or a food tour in san sebastian
For every person who joins a tour, we donate a meal to someone in need. You eat one, you feed one.
If you travel for food these experiences are for you!
San Sebastian, and the Basque Country have a unique culture, a rich history and an outstanding culinary reputation that lives up to the hype. Join our online experiences, or book a private tasting and get a bit of the Basque Country delivered to your home. Connect with friends, family or work colleagues and enjoy a virtual culinary experience and create a positive social impact through what you taste.
Disclaimer: 2020 shook our world like it probably shook yours too. To survive and thrive we pivoted to the magical virtual world and created delicious online tastings you can enjoy from home. Where you'll learn how to taste wine, beer, cider like you've never tried it before and pair it with delicious chocolate. Get tips on how to find really good, honest chocolate as you learn the complexities behind the flavours and how to taste it like wine. Prepare to be moved by chocolate.
If you're planning to travel to San Sebastian, let us help you plan your trip with tips and recommendations of where to stay, what to do and most importantly where to eat. We'll be hosting virtual planning trip sessions you can join.
Already planned your trip to San Sebastian? Explore which food tour you'd like to do. Feel a real sense of community, get to know how locals live and enjoy eating as you learn about the history and culture of San Sebastian and the Basque Country.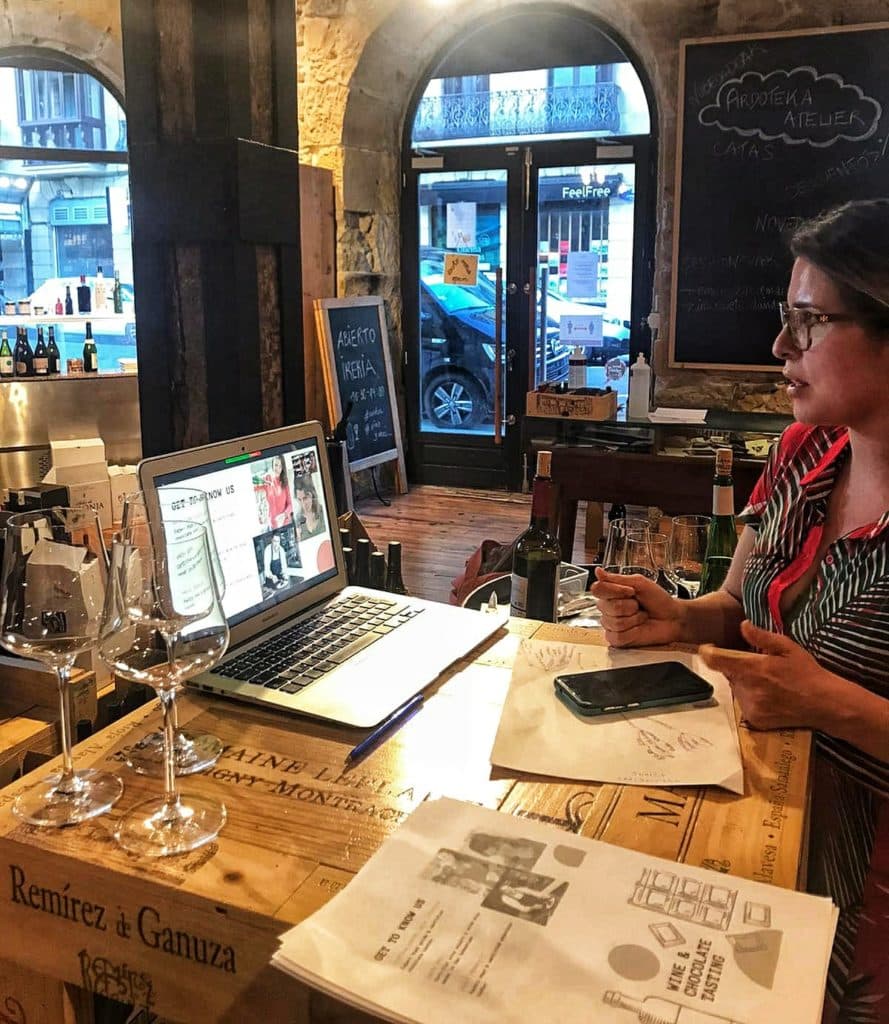 Delicious Food Tours & online culinary Tastings.
Ideal for team building, friends and actually fun family virtual reunions. Each food tour and online tasting is linked to a local association that helps create a positive social impact on the city, the region or the continent through food.
enjoy an online culinary experience with friends, family or work colleagues. ideal for team building!
Get a real sense of community. Eat your way through San Sebastian, get all the tips of where to go and what to eat and understand why food is so important here. Food & travel changes you, don't you think?
what our clients say about us
Eat you way trough San Sebastián!! If you Travel to San Sebastián you MUST do this food tour!! Cristina is an amazing guide, very knowledgeable on San Sebastián history and on the best places to go for pintxos. She would explain how to approach the food scene and a few tricks and secrets of this amazing Town!! Highly highly recommended!
Nancy Stafford
"Cristina provided a wonderful evening of cider, chocolate and storytelling for us during Covid lockdown including sending the tasting items to UK. It was the next best thing to being in San Sebastian and has changed my chocolate purchasing habits."
Jim H
"Cristina put together a fascinating and incredibly delicious wine and chocolate tasting for my colleagues and I. I had been looking for something to really cheer people up and bring our team together whilst we WFH and the EatOneFeedOne team did a phenomenal job of engaging everyone even over Zoom. Really can't thank you enough - what a special experience."​
Natalie S
Visit our blog for inspiration. Get tips and recommendations for the best places to eat in San Sebastian, video recipes and tips on how to host your own wine tasting.