BEST PLACES TO EAT IN SAN SEBASTIAN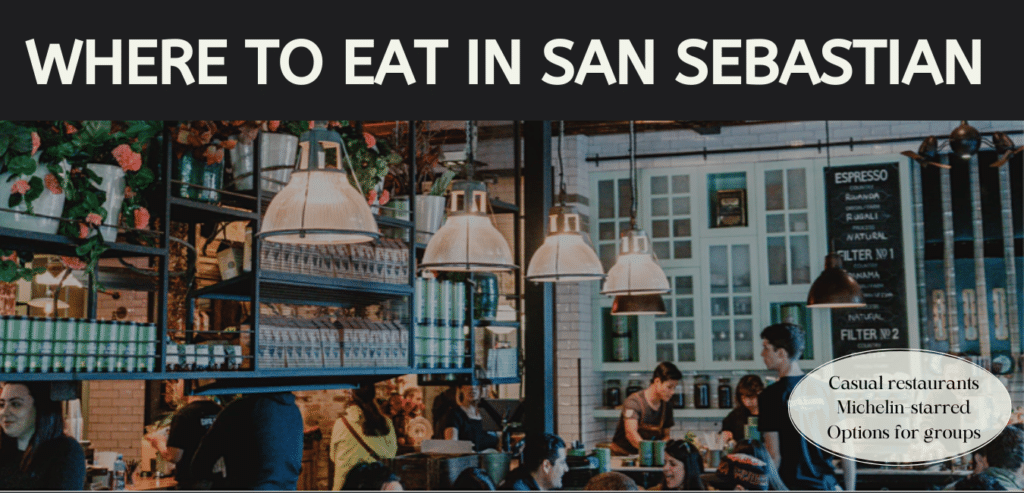 Recommendations for restaurants
If you want to sit down and have a meal at a restaurant I definitely recommend you book in advance. During the weekends it's hard to find walk in restaurants. Lunch time is between 13:00 – 15:00.
Going out for a 'sit-down' meal is not the same as going out for pintxos. If you want to find out what a pintxo is and how 'to do pintxos' like a local click here. Remember you can always have a pintxo as an aperitif before you go out for lunch or dinner, which is a local favorite formula.
Restaurants for lunch or dinner
SIT-DOWN RESTAURANTS
ZELAI TXIKI – Classic
Address: Rodil kalea, 79
Really delicious Basque food!– with a terrace. If it's sunny, you should try and sit outside – it is walkable but it's at the far far end of Gros, you can also take a taxi. (The main taxi stop is on the Boulevard btw). You don't come here for the views but you do for the food it is fab, very Basque and traditional, good wines too!
SALTXIPI – Classic
Address: Ategorrietako Galtzada Zaharra, 3
Visit their website or instagram and drool, they've got top-quality produce, traditional Basque recipes. Simple grilled fish and amazing meat. Definitely a crowd pleaser. Good, honest Basque food.
GALERNA – Up and coming young chefs
Address: Kolon Pasealekua, 46
It's a relatively new restaurant in Gros run by two young chefs. Galerna is basque for a 'sand storm'. They have a really good reputation for choosing local ingredients and creating delicious dishes. They're part of the new generation of up and coming chefs in the city!
ASTELENA – Traditional and cozy
Address: Euskal Herria Kalea, 3
A classic, it's actually run by a local chef celebrity. This is a really nice place, good ingredients, classic Basque dishes and top quality.
USARBI – Great find
Address: Calle San Francisco, 12 Gros neighbourhood
Good for pintxos and sit down meals. I celebrated a birthday here with 12 people it was so much fun and delicious. Run Ion (pronounced John) a charming and hardworking young upcoming chef! This place is a real find, they add seasonal dishes but I never get tired of their classic croquettes and salmon pintxo. It's good for small groups and larger ones. Call to book don't be shy it's worth it!
GERLAD'S BAR – A locals favourite
Address: Iparragirre, 13
It has the feel of a bistro. Local produce, delicious food and cozy. It's a small place with a whole lot of of flavour. Definitely worth a try!
REKONDO – Wine lovers paradise
Address: Igeldo Pasealekua, 57
Traditional high end Basque cuisine. Restaurant is on mount Igueldo, it's nice to be near nature and it's known for their exquisite selection of wines, they have the biggest wine selection in town! 
Michelin Starred restaurants
The stars were born from the food movement in the 1970's led by 12 Basque chefs that created the Nouvelle Basque Cuisine. This revolution lives on and today there are 16 stars in total! This is the place with most Michelin stars per square meter!
***(3)Michelin-starred restaurants
ARZAK
Led by Juan Mari Arzak and his daughter Elena. Creative signature cuisine, amazing attention to detail and flavour. Close to the city centre. A definite must.
AKELARRE
Led by Pedro Subijana, one of the pioneers of the food revolution. Perched on Mount Igueldo, Akelarre is a unique restaurant that lives up to the hype. They now have a luxury hotel and a gorgeous terrace and a second restaurant called Espacio Oteiza.
MARTIN BERSATEGUI
Three michelin-starred restaurant run by Martin Berasategui in Lasarte 15mins away from San Sebastian. Creative menu with traditional flavours.
**(2)Michelin-starred restaurants
MUGARITZ
In a remodeled farm house in Errenteria, close to San Sebastian. Avant-garde cuisine, a modern and push-your-boundaries kind of a place. Run by Andoni Luis Aduriz.
*(1)Michelin-starred restaurants
KOKOTXA
The only Michelin starred restaurant in the Old Town of San Sebastian. Two tasting menus, one longer than the other. Run by young chef Dani López. Modern take, delicate dishes, local flavours. Table cloth but casual and friendly.
ALAMEDA
Family run tavern and restaurant. Three brothers. Based in Hondarribia, 30mins away from San Sebastian in my second favourite city in the Basque Country. They have 2 tasting menus, 80% of their produce comes from within a radius of 25 km.
MIRADOR DE ULIA
Unique location, on Ulia mountain, with a spectacular view. Four different tasting menus including a vegetarian one. Run by chef Rubén Trincado, third generation running the restaurant.
ZUBEROA
Located in a traditional Basque farmhouse in the outskirts of San Sebastian in Oiartzun. A locals and chefs favourite. Run by three brothers, Hilario, Hilario, Jose Mari and Eusebio Arbelaitz. A gem of a place, that shines because of its quality and humble approach to stardom.
ELKANO
Ah fish and seafood paradise. They pay the utmost respect to their ingredients and it shows. It's in Getaria a fishing town with vineyards and open fire grills 30 minutes away from San Sebastian. Family run, elegant and deceptively simple.
EMEBE GARROTE
Also run by Martin Berasategui, in Ibaeta neighbourhood in San Sebastian way out of the city centre and touristy areas. It's in a remodeled cider house and they offer different tasting menus as well as a la carte.
AMELIA
In the Hotel Villa Favorita, along La Concha Bay. Run by Chef Paulo Airaudo. They offer seasonal tasting menus as well as a tasting one. The restaurant is an intimate spot in a great location.
Plans for big groups: where to eat
Hands down the best plan to do with a big group of friends or colleagues is to go to a cider house!
They're outside of San Sebastian, 20minutes away by bus 10 minutes away by car or taxi. The official cider season is January – April but there are a few cider houses that are open all year round!

You can't come to the Basque Country and not experience a ciderhouse!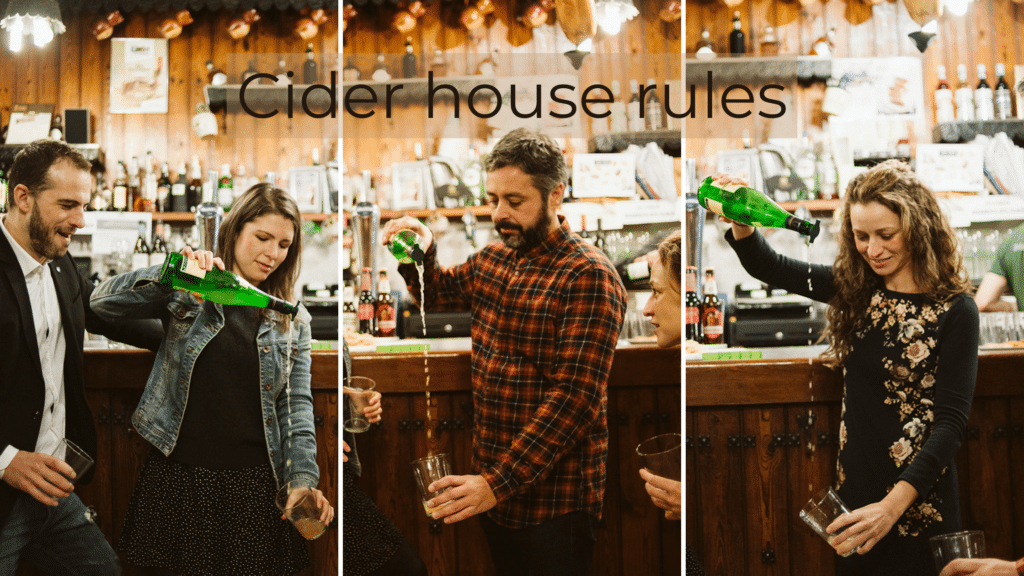 Cider house rules
Book a cider house over the phone
Sort out transport, catch the bus, hire a taxi, don't drink and drive
Don't eat anything beforehand
Prepare for one of the most fun and delicious experiences in the Basque Country.
Cider houses have a set menu it's usually: Chistorra (savoury- paprikaish-sausage cooked in cider), freshly made salt cod omelette with parsley, cod served with caramelized onions and green peppers and chuleta (massive t-bone steaks grilled over open fire), cheese, quince or apple jelly and walnuts for dessert and ALL the cider you can drink.
As soon as you go in and find out where your table is grab a glass from the entrance and head to the barrels.
Go to where the 'cider master' is serving the cider and line up to get your serve.
Hold you glass at an angle and only serve 2-3 fingers high up the glass.
If you hear the word 'txotx!' (pronounced choch) that means they're opening a new barrel. Head to where it's being poured and get your cider.
The idea is that you try the cider from all the barrels to see which one you like the best. You don't have to finish the whole glass you can always pour it on the floor where the drain is.
Basque cider has no sugar, it's just naturally fermented apples. The first sip you try might be tart, but the more you drink it the more you'll like it! Cider is a traditional and important drink to the Basque Country and it is most definitely worth a try.
Cider houses
PETRITEGI – open all year round. Great menu, great cider, easy to get to by bus and they have a bar next door called the -Petri Disco- if you want to keep the party going!
Webiste
ZAPIAIN – one of the classics which means you also eat standing up like in the olden days.
Website
ZELAIA – one of the classics, so you'll also be eating standing up, but it is worth it. There's a reason they've been working since the 1500's!
Website
IRUIN – open all year round, it has the traditional cider house menu and has a vegetarian menu which is rare to find
Website
URDAIRA – king crab on their menu! It's slightly more hidden so you definitely need a car or taxi. When you book you can ask to get the king crab legs as well as the regular menu, they're impressive and delicious!
Website
Here's a full list of all the cider houses if you want to look for more.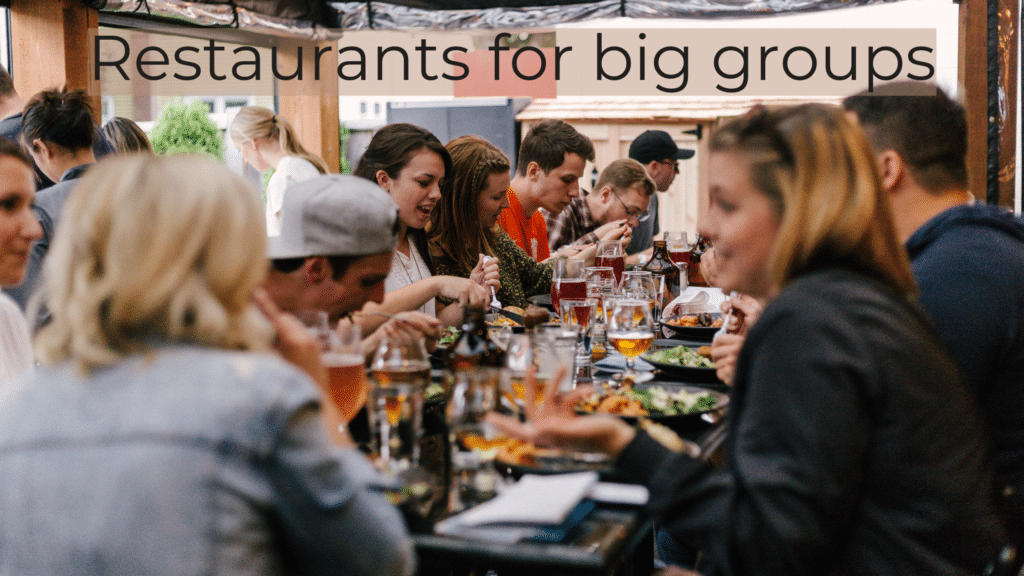 Restaurants for big groups
Seating tends to be quite limited for bigger groups in regular bars and restaurants, depending on how big your party is, but there are few places that are great for bigger groups. You should definitely book in advance and let the restaurants know if there are any allergies in your group.
USARBI
Address: Calle San Francisco, 12
Great long tables. Traditional Basque food with a few modern twists. They can fix a casual tasting menu for your party so everyone gets to taste a bit of everything. I celebrated my birthday here with loads of people and it was amazing!
Website
KASKAZURI
Address: Paseo Salamanca 14
They have a daily menu which includes entrées, main dish and dessert usually with wine. This is place offers great value for what you get and they make it easy for you when you have a big group.
Website
CALONGE
Address: Padre Orkolaga Ibilbidea, 8
They make their own cider and have a cider house menu from January- April and a great restaurant for groups the rest of the year. It's up on mount Igueldo so you need to either get the bus or drive up.
Website.
BIDE BIDE
Address: Urbieta, 12
Really casual, also good for pintxos, great option for big groups as they have quite a wide menu that can fit many peoples' tastes. Good bang for buck!
Website