What is a pintxo* and how do you 'go out for pintxos'?
First of all, you must know that <pintxos> are famous in the city and there's many reasons for this, but most importantly they're amazingly delicious!
*Pintxo is pronounced <<pinch-oh>> although it's like the fun cousin of a Spanish tapa it is not to be confused by one. Pintxos are delicious 2-3 bites of yumminess, sometimes on a piece of soft or lightly toasted bread. Many pintxos have evolved and come in all sorts of shapes and sizes. They're intricate little dishes so you might also need a fork and knife to eat them with.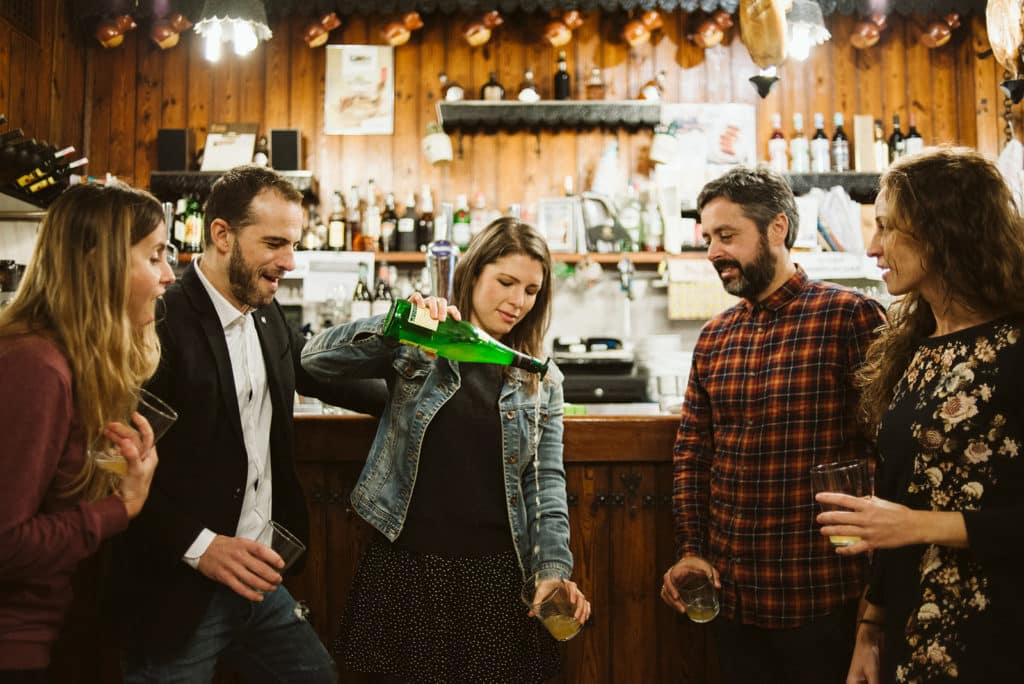 Instructions on how to go out for pintxos: 10 steps on how 'to do' pintxos like a local
For the ultimate pintxo experience satisfaction, please follow these instructions:
1. Do not eat anything before (seriously, at least 3 hours before.)
2. Designate someone to be in charge of the money.
Give that person an equal amount of cash each you can always start with less and chip in more afterwards. This is how local groups of friends do it and it's very practical. The treasurer has to make sure to pay at each bar.
3. Eat from small to large and don't fill up in the beginning. Stick to 1 maximum 2 pintxos per bar. (There's science in this!)
4. Remember that in most places, if not all, you won't be sitting down– that's just how Basques roll. The idea is to food hop and not to stay put.
5. Order food first, drinks after. As you enter a bar get your food order in first and then the drinks. It'll give you time to think what you want to eat.
*Extra tip: I know you'll be tempted by the amazing food you see displayed on the bars, but hold back from those, at least on your first time. Most of the best pintxos in my opinion are freshly made (trust me on this one).
6. Start early. Bars open between 12:00- 12:30 for lunch, and kitchens close at 15:00 which means they won't be cooking any more freshly made food after that. They reopen for dinner again around 19:00 and kitchens will stop serving food around 23:00. Be sure to get there in time before they close.
I'll add several choices at the bottom double check if they're open but if you go on a weekend you should be fine. Summer is high season so be prepared for lots of people!
7. Try Txakoli (pronounced chah-koh-lee) the local, slightly sparkling white wine. Try this at least once and watch how they pour it and enjoy.
If you like it, you can keep ordering it at the other bars, or try a zurito. If you feel like red wine, Rioja, is the closest wine region from us, experiment by ordering different wines! If you're not too fussy about your wine, do what many locals do and order 'uno del año' the yearly wine or a 'crianza'. This just means it's been aged for at least 2 years. If you prefer beer, ask for a zurito (sue-ree-toh), it's a small pouring of beer so you can keep drinking as you go. Don't let its small, elegant size fool you can have several! If it's a hot day, zurito con limón (lime soda) is very refreshing!
8. Allergies go first. Be sure to let your bartenders know if anyone has any allergies when you order food.
9. Act like you know what you're doing. When you walk into a bar, they don't usually ask you what you want. They might not even say hello, especially if they're busy. Walk confidently to the bar and get your order in, even if there are loads of people, just ease your way through. Fake it till you make it.
10. Be open minded and give everything a go. There's a reason why this is a culinary Mecca and have fun, savour it-there's no rush!
*Extra tip: Streets have the name in Spanish on one side and in Basque language on the other, so don't stress if you see two different street names, you're probably on the right street.
I recommend you explore different neighbourhoods but if it's your first time it's fun to hit the Old Town!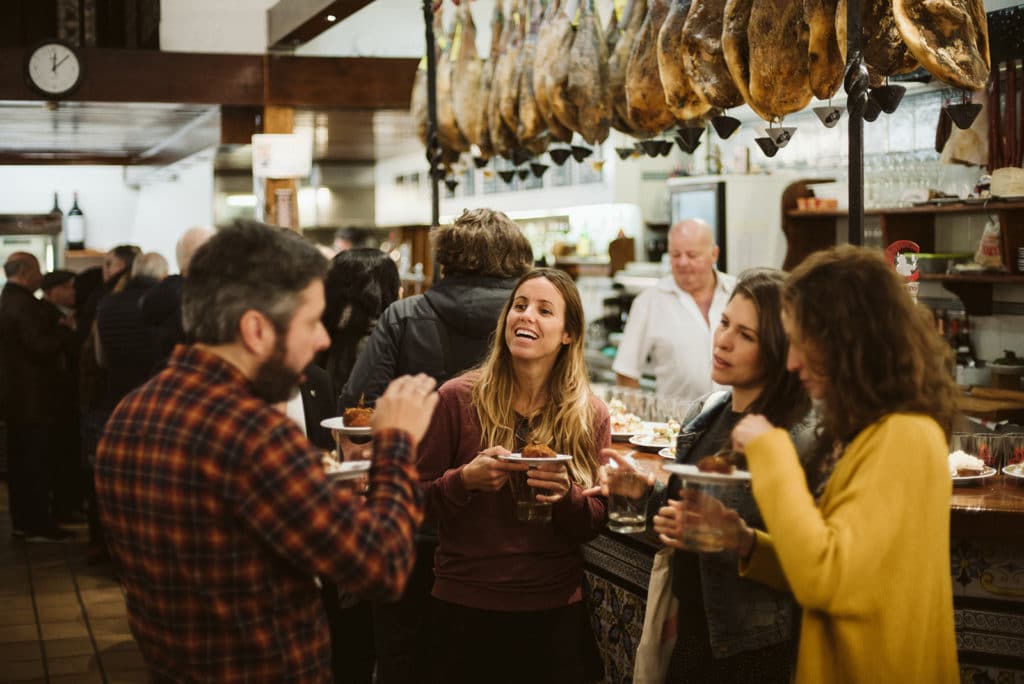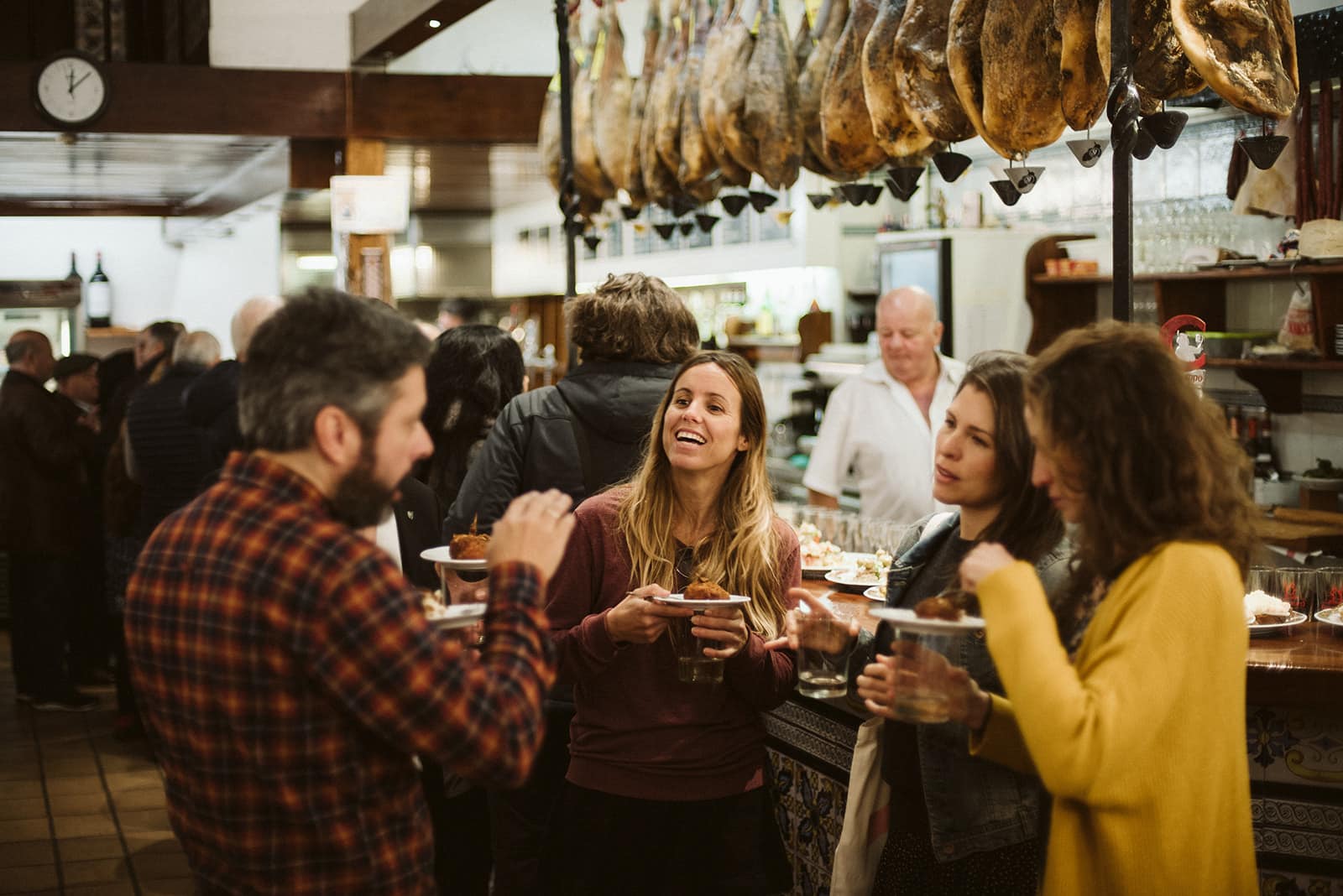 Where to eat in the Old Town
This is a list which can double as an entire self guided tour, I've divided them so that you have an idea of where to start and finish. Choose as many as you want, but I would calculate around 3-6 places depending on your appetite.
Starters
BAR TAMBORIL. Address: Pescaderia, 2.
A classic family run bar that was recently remodelled.
Pintxos: Pimiento relleno (deep-fried red pepper stuffed with beef.) If it's nice weather you can ask to sit out on the plaza.
TXEPETXA. Address: Pescaderia, 5.
This is an anchovy bar, not the "peel off your pizza kind," the scrumptious, blow your mind type that will turn you into an anchovy lover. This is great with the Txakoli wine I mentioned or champagne: they have small bottles good for 2-3 people.
Pintxos: my favourite ones are jardinera (read and green pepper with onion vinaigrette), centollo (spider-crab cream) Experiment with the foie and apple compote or blueberry one if you want to be pleasantly surprised! Order one each and ask for them to be cut in half so everyone can try different ones.
LA MEJILLONERA Address: Puerto Street, 15.
It's loud, usually crowded on weekends and messy but delicious.
Mussels, potatoes, fried padrón peppers and fried squid like calamari. Get different toppings for the mussels they are moreish!
These are small plates that are good to share and pair them with a bottle of Basque cider! If you've read up on 'kalimotxo' pronounced <cali-much-oh> this would be the place to try it. It's wine and coca-cola, yes it's strange sounding and tasting and kind of like the drink teenagers have. If you're curious have it here.
Main dish pintxos
BAR GANDARIAS. Address: 31 de Agosto, 23.
This is a good bar to know because their kitchen stay open all day, they don't have a mid afternoon break.
Pintxos: All their freshly made skewers, beef and squid are my favourites. Solomillo (two-bite sized grilled meat with pepper). Everyone loves this one; they've got some amazing wines too!
BORDA BERRI. Address: Fermin Calbetón 12
Everything is good here. Everything.
Pintxos: Look for the seasonal ones. A crowd pleaser is the 'carrillera' stewed beef cheek that's so soft and it's like your grandma hugging and feeding you, the pork kebab which is a pork rib is also dreamy. My favourite, only for the brave, the porks ear! Crunchy, soft, salty it ticks all the right boxes. They only take cash which is good to know beforehand.
BAR GANBARA. Address: San Jerónimo, 19.
Bar and restaurant in the underground floor. This is a place where I would eat anything from the cold display which I wouldn't do anywhere. Look out for the vegetables displayed on the bar which change with the season and get some of those. The grilled mushrooms with egg yolk are AMAZING, they're a bigger and pricier option FYI. Get the chicken croquette you will thank me.
BAR CUCHARA DE SAN TELMO. Address: Santa Korda Kalea, 4.
Next to the San Telmo museum. Everything is amazing here. No pintxos displayed outside. Just know that they have 3 servings: pintxo (individual), 1/2 ración (double portion for about 2 people) and ración entera (whole portion for 2-4 people). I would get the individual ones if you want to try more, get the big portions if you're in a bigger group that likes sharing.
BAR SPORT. Address: Fermin Calbeton, 10.
Another great spot to know as the kitchen never closes. The bartenders are really welcoming and friendly, if you have doubts just smile and ask them.
My favourite: grilled foie gras with cracked pepper.
Their grilled and stuffed squid, croquettes, crab and beef carrilleras are also worth a try but the foie…deserves its own sentence.
BAR TXULETA Address: Plaza de la Trinidad, 2.
Pintxos: Best beef croquettes and the only place where you can find them in town. Also squid ink croquettes worth a try. Txuleta <pronounced chew-let-ah> aged beef skewer, also their octopus and prawns skewer is great. Meat in the Basque country is usually quite rare, if you're not into that, make sure you ask for it to be well done.
Dessert
This depends on whether you want a sweet or savoury ending.
If you're hyped, because let's face it this will get you excited, and you might want a small, savoury bite to finish: BAR MARTINEZ Address: 31 de Agosto, 13.
Pimiento relleno de bonito (stuffed piquillo pepper with a bonito tuna).
It's 2-3 memorable bites, a must have! A little piece of paradise in a pepper.
BAR LA VIÑA. Address: street 31 de Agosto, 3. Cheesecake! This is the best cheesecake in the world and I'm not the only one who thinks it. If it's closed, come back later to get some. It's worth it.Each portion has 2 slices so you can share or ask for them to be split. If this is your ending mark it with a glass of bubbles or the classic decadent pairing, with a glass of Pedro Ximenez, a sweet sherry wine made of raisins. Syrupy and heavenly.
ICE CREAM.
There's many places but in the old town these are my 2 favourites:
OIARTZUN Ijentea Kalea, 2.
Family run business, they have seasonal fruit ones but they're all good!
CARLOS ARRIBAS Portu Kalea, 20.
Hidden gem. Run by an ice cream professor! Traditional and new uncommon flavours!
Remember these recommendations are all based on my personal taste. I do advice you to just double check if places are open beforehand. Many bars close on Monday or Tuesday.
If you want to find out more about the history, culture, the stories behind every pintxo, the vendors and how this pintxo culture came to be so embedded in local Basque culture book your tour here.
This tour is useful to do at the beginning of your trip, to get the lay of the land and tips on how to spend the rest of your stay. It's also useful if you're the type of person who likes to blend in with the culture you visit.