San Sebastian At Home Festival
4-8 May, 2020
I hope you're all well and safe at home!
I want to invite you to an initiative I have started together with my friends from Ikusnahi Tours. Inspired by musicians all around the world, sharing their talents. By chocolatiers creating a beautiful movement called Stay Home With Chocolate movement. We came up with San Sebastian At Home Festival @SanSebastianAtHome
A free online Food, Wine & Travel festival streamed live through Instagram from the 4-8 May
We have gotten together with other travel and local businesses, with a close relationship to tourism to create a community, and promote our city and our work.
If you can't come to San Sebastian, San Sebastian will come to you!
When the world gets socially distant, we propose a digital festival!
The goal
The goal is to bring our gorgeous city closer to you, through passionate local guides and vendors.
Our aim
Our aim is to collectively promote San Sebastian, our hard work and remind you of the beauty of travel for when the world is ready!
Every participant will contribute content via Instagram Live at a scheduled time.
WHY
We've been in lock down for 1.5 months. We've been reminded of the importance and power of connection. This is why we're doing a FREE online festival 4-8 May!
This is our first time doing something like this! We've put a lot of time and effort into it, because we want to give you the gift of travel from home.
Here's your chance to learn from locals, what makes San Sebastián so unique!
From our home to yours, here's a piece of San Sebastian for you!
We believe in connection & creating community so we're donating our time to share fun stories and demos of San Sebastian and the Basque Country!
WHO
@eatonefeedone – (ME!!) PINTXO CULTURE
@karabeleko – SPRING FARM
@sakona_coffee – ULTIMATE COFFEE
@oribay.tours – CANTABRIAN SEA LIFE
@zaporejai – IBERICO HAM
@basquelandbrew – GRAB AN IPA
@basquenomads – BASQUE COAST GEOPARK
@ikusnahi_tours – A DIFFERENT TOUR
@sansebastianwinespot – WINE TASTING
@arizmendi_tabakalera – SOURDOUGH PIZZA
@chefbensansebastian – SHOWCOOKING
@feelfree_rentals – DESIGNER APARTMENTS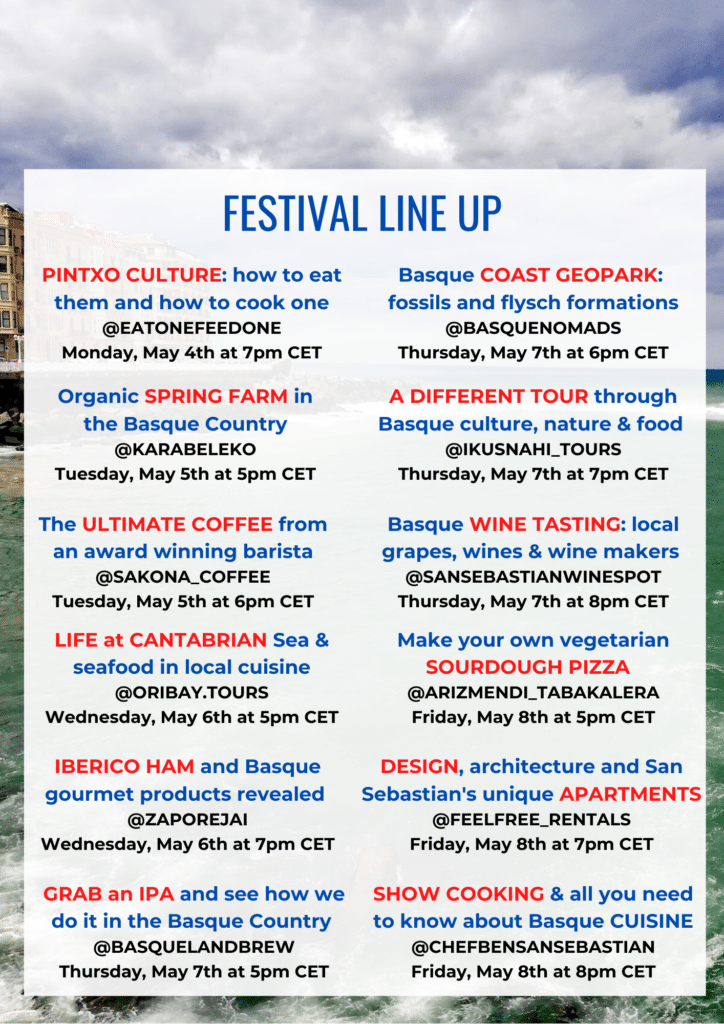 WHEN
4-8 May 2020
WHAT
A free online festival about San Sebastian, its people, about its businesses and about travel.
WHERE
From your home, on your phone. Through instagram Live. Look at the line up on @sanSebastianAtHome 's instagram account.
HOW
Choose a day and a time from the line up and tune in Live into the speakers' Instagram account!
If you like travelling, if you like food, wine, beer, coffee, iberian ham, sourdough pizzas! Design, exploring nature, knowing where your food comes from, fishing, immersing yourself in a city and culture when you travel THIS IS FOR YOU!
Please help us by following @sansebastianathome on instagram and, by sharing with anyone who you think would enjoy the festival!