*PRONOUNCED 'PINCH-OH' THE BASQUE COUNTRY'S VERSION OF TAPAS but better
FOR PEOPLE WHO LOVE FOOD, TRAVEL AND ARE KEEN ON A SUSTAINABLE FUTURE AND WANT TO GIVE SOMETHING BACK TO THE CITY THEY VISIT.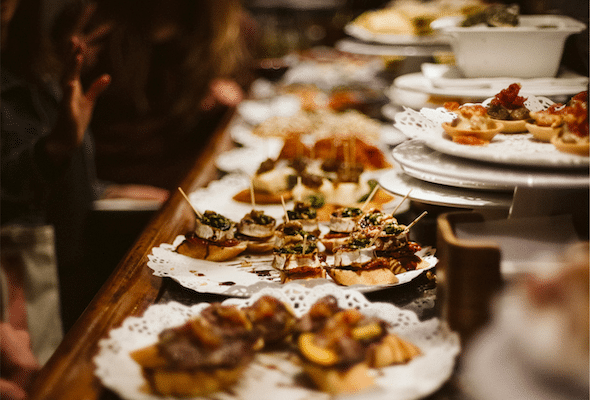 IF YOU TRAVEL FOR FOOD, THIS IS FOR YOU
Ideal for food & drink lovers. Experience San Sebastian's everyday life and understand its past and culture and the importance of food here. Know your pintxos. No visit to the Basque Country is complete without a pintxos tour, going from bar to bar snacking on delicious culinary creations. Learn the ins and out on how to navigate the local food scene. And make a difference to the city's future because with every food tour you purchase, you'll be donating a meal to someone in need.
Take part in this edible story of the city where every place and bite come alive.
Also FYI this city's extremely family friendly!
Duration: 3 hours
Price:
Adults 99€ 18 and over
Teenagers €89 14-17
Children under 13 €69
Starting time: 12:00 midday & 6:30pm
Availability: From Monday to Sunday
Includes:
A visit to two different neighbourhoods.
There are five stops with different tastes in each stop paired with five specially selected drinks, which include local drinks and wines.
Non-alcoholic pairings are also available if you prefer.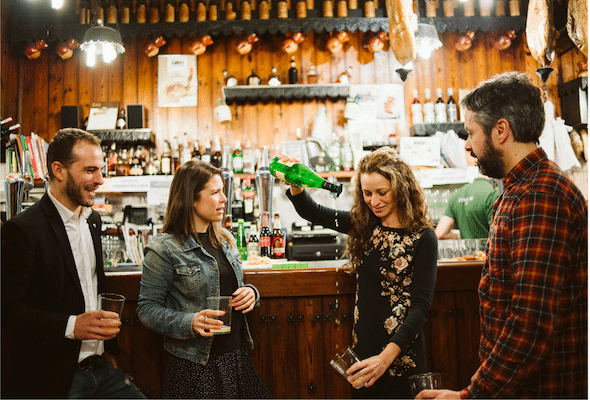 A CULINARY IMMERSION IN REAL, ORDINARY SAN SEBASTIAN
This is a three-hour walking tour, where there's mostly eating and less than 10 minutes' walk between each stop. You'll be able to explore two different neighbourhoods.
Feel a real sense of community, get to know how locals live and eat as you learn about the history and culture.
We'll have five stops which have been specially selected where you'll indulge and learn all about this unique gastronomic tradition of ´going out for pintxos!´
With every food tour you purchase, we help a person in need by donating a meal to a local soup kitchen.
You eat one, you feed one.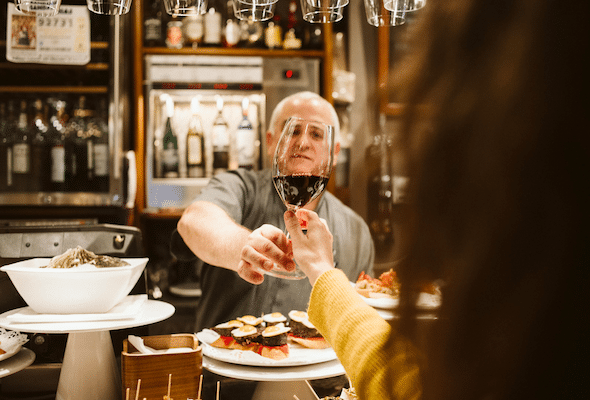 More tips:
🕵️ Private tours also available and you can decide to combine it with city & pintxos tour!
🐟 Yes to pescetarians & vegetarians if you let us know in advance. Unfortunately we're unable to guarantee that cross-contamination may not occur for major food allergies.
🥬 If you prefer a full vegan experience we suggest a private tour.
♿ This tour can also be wheelchair accesible, just let us know beforehand and we can also make it private.
Food tours made with love that create a positive social impact through food.

For every person that joins a tour we donate a meal to a person in need. You eat one, you feed one.
"You learn a lot about someone when you share a meal together."  – A Bourdain